There has been outrage on social media over the invitation of a chieftain of the National Union of Road Transport Workers in Lagos, Musiliu Akinsanya, aka MC Oluomo, to an event at the University of Lagos, Akoka.
Also Read MC Oluomo, NURTW Official, Eight others allegedly stabbed at APC Lagos Rally

Many Nigerians on Twitter criticized the decision to invite MC Oluomo to the event, saying it would pass the wrong message to students of the institution.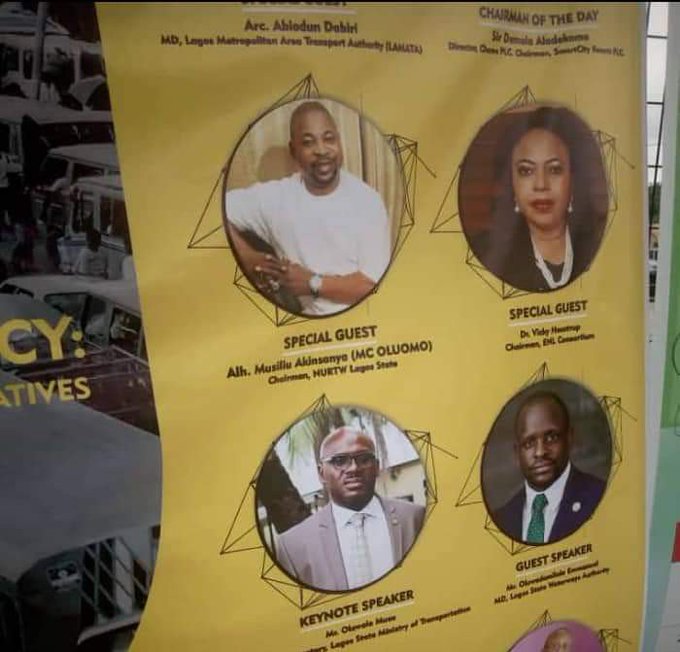 The event was said to have been organized by the National Association of Geography Students, UNILAG chapter.

On Twitter, in particular, many had wondered why MC Oluomo was honored with an invitation when a former presidential candidate, Omoyele Sowore, was barred from addressing students when he was invited for a similar gathering a few weeks earlier. Read some of the comments below:
In my opinion,This MC Oluomo case is suppose to be a case study!! How can a man from street thug climb his way up the ladder that he is now a special guest at Unilag ? Instead of ranting and shouting we are suppose to be leaning the magic behind the scenes.
People are criticizing Unilag 4 inviting MC Oluomo as a Special Guest to an event which is based on transportation. Firstly,McOluOmo is the chairman of NURTW in Lagos State ,so he def knows one or two about transportation, Because he isn't a graduate doesn't make him a dullard.
MC Oluomo will give Unilag 5M Those that invited him together with the ogas will share 3M They will give the remaining 2M to the institution 10 students will vow to be like MC Oluomo after graduation At least 7 will eventually be The evil of today will produce evils tomorrow.
MC Oluomo Did not Attend the Event

MC Oluomo, who travelled to Abuja and did not attend the student programme, said the organisers knew why they invited him. The University of Lagos had been attacked on the social media for inviting the transport union leader to the campus. One of the top aides of MC Oluomo said he did not attend or send a representative. MC Oluomo's aide, Jimoh Buhari, said he could not attend the event because he traveled to Abuja for an emergency meeting.

Buhari said, "I don't know the reason people are going against the invitation because the people who invited him knew what they wanted him to say. "If he had gone there and said something wrong, then the critical reactions would have been justified. Is it a crime not to be educated? Should people who did not go to school go and commit suicide?
"I think that if someone did not go to school and has a large following, it is enough reason for people to invite him to occasions. Those who invited him for the event had a strong reason for doing it.
"People are judging MC Oluomo based on hearsay. You don't judge a book by its cover. We are also making efforts to change the negative impression people have about him."