Emir of Kano, Malam Muhammadu Sanusi ll has been dethroned over disrespect to the office of the governor and other government agencies. The Secretary to the State Government, Alhaji Usman Alhaji, said the removal was with immediate effect.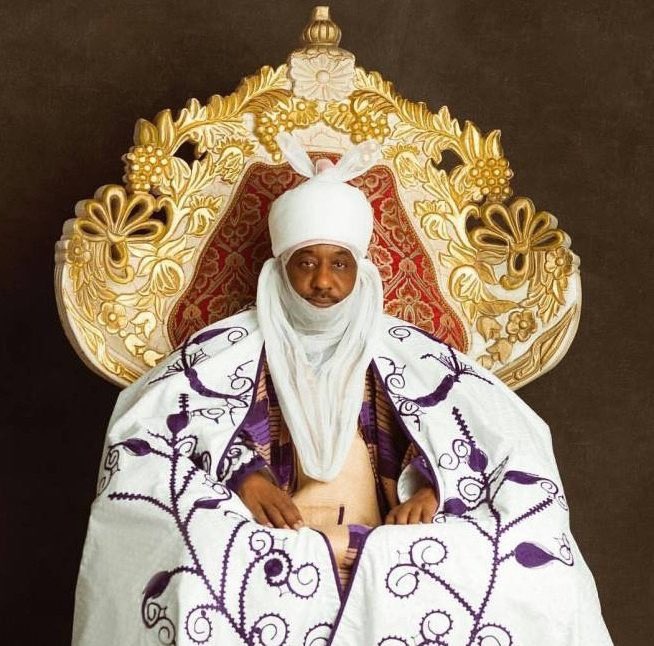 The emir's action violated the part 3 section A-E of Kano state law, hence the removal. He said the removal was in line with consultation with relevant stakeholders.
Read this too | Sanusi Emir oF Kano Cries Out –"Northern Elites After Me"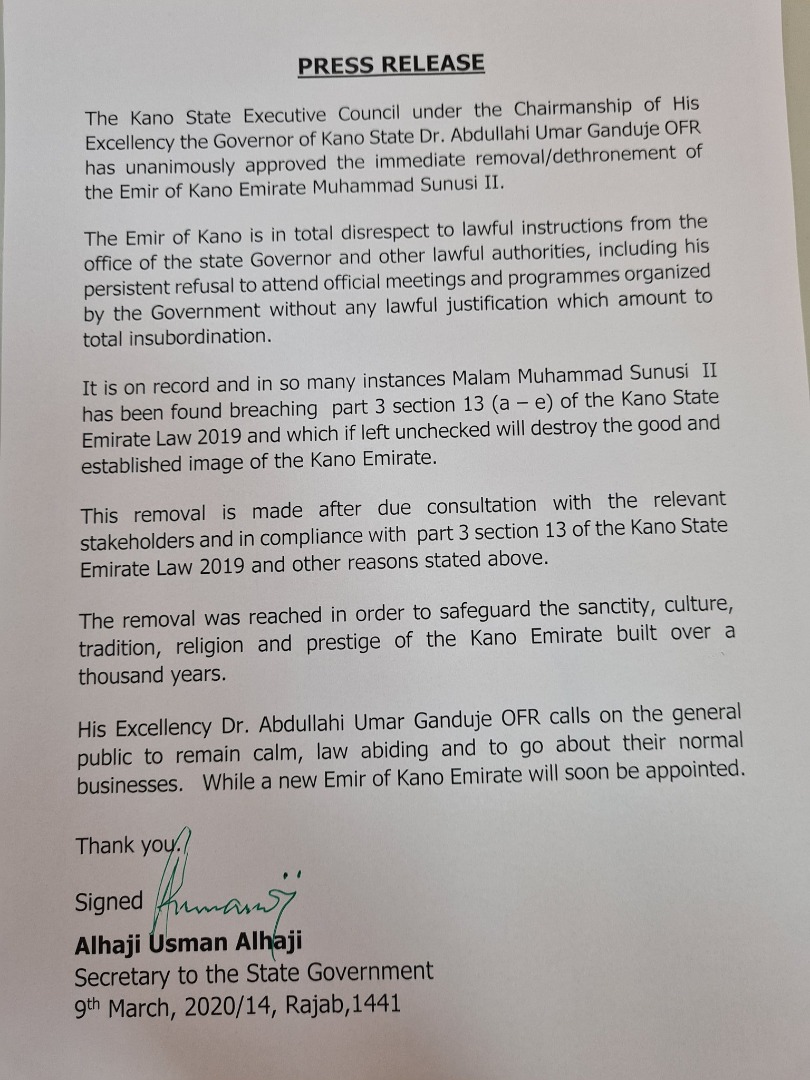 What Nigerians Are Saying on Social Media
JajaPhD | Sanusi's sack is the voice of Ganduje but the hand of Buhari.
WaleTona | A governor can dethrone a king in Nigeria? This is new! We learn everyday. Ganduje dethrones the Emir of Kano, Sanusi with no logical reason. However, Ganduje is still walking free despite concrete evidence of corruption against him.
Mr.VAR | How can someone that was caught in video collecting bribe from contractors be investigating Emir Sanusi Lamido Sanusi for corruption. Nigerians are we thinking straight? Ganduje baida kunya ku kadan wallahi.
Bello Shagari | The news of the dethronement of Emir Sanusi Lamido Sanusi is sad. It is unfortunate that those who should have intervened in the crises did not do enough to contain it. I hope that it does not lead the escalation of civil disorder in Kano.
OgbeniDipo | I hope Sanusi Lamido Sanusi will get back into politics full time. I have always noted that Nigeria lost him to Kano State. So, this removal might be disappointing, but it's still good, if he continues his good works.
Gimbakadanka | I believe Ganduje is just the poster-child of this agenda to frustrate and dethrone Emir Sanusi. Abuja's handwriting isn't hard to read, but that's a story for another day.
ShehuSani | The removal of Emir Sanusi represents the incompatibility of the crown and conscience, the consequences of dissent against established norms and the heavy price of holding principles in our north. It also revealed the intolerance and toxicity of the liquor of power.
DeleMomodu | I hope now that GOVERNOR GANDUJE and his co-conspirators have taken their pound of flesh by dethroning the Emir of Kano, their eyes will clear and see later that their own power too is transient! No matter the sins of Emir Sanusi, he is one of the finest citizens of Nigeria.
Bulama | He has a record of getting better things after persecution. Gandollar will regret today. Unfortunately for him and his crowd, they can't take away Sanusi's track-record, education, wisdom, exposure, goodwill, integrity & network. And Ganduje can never, I repeat, never match them.
Omojuwa | It was always Sanusi's dream to make the throne. He made it. He has now been dethroned. I see it as destiny's way of saying to seek bigger things he could never have sought as an emir.
History repeats itself, in 1963, Emir Sir Muhammadu Sanusi I was dethroned as a result of the power struggle between him and Ahmadu Bello.

57 years later, his son Emir Sanusi Mohammed Sanusi II is dethroned by Governor Ganduje. pic.twitter.com/4HW3qMcBtd

— Iho Terence Terna🔴 (@IhoTerence) March 9, 2020