Taraba state governor,  Darius Ishaku on  Thursday returned to Jalingo, the capital, after 87 days of exile in Abuja.
The governor arrived at Danbaba Suntai Airport Jalingo exactly 4: 11 pm amidst tight security. Ishaku was last seen in the state on 22nd December 2019 after presenting the 2020 appropriation bill to the State House of Assembly on the nineteenth of the same month.
He later signed the state's Appropriation Bill there in Abuja, after his aides carried the documents to him in the nation's capital.
The governor's long stay outside the state irked the leadership of the All Progressives Congress (APC), who threatened to institute a court action against him for failing to transmit powers to his deputy, Haruna Manu.
The governor through his Special Adviser on Media and publicity Bala Dan Abu, told Journalists in a press statement that the governor had a domestic accident and was in Abuja base on medical advice.
The state house of assembly on their part passed a vote of confidence on the governor which many described as supporting impunity in the state.
Addressing journalists, on arrival at the airport, the governor agreed that he had a domestic accident in his Abuja residence at about 8 pm when he was climbing the staircase.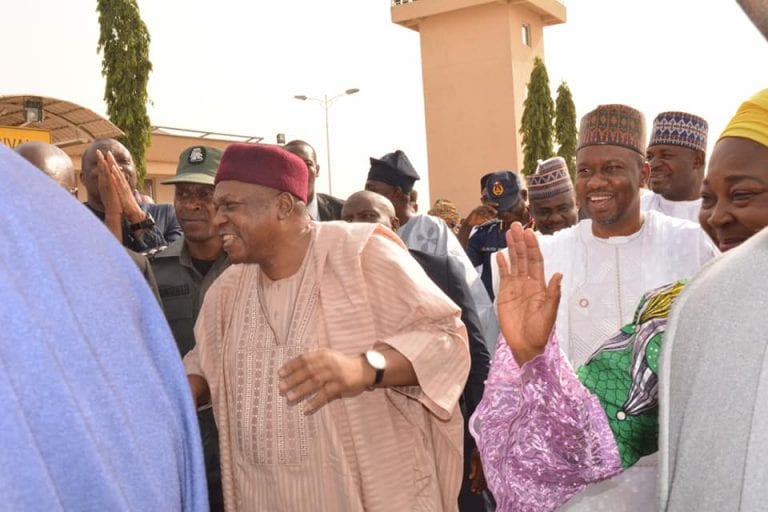 He said his stay in Abuja was not against the Constitution of the country since he was still within the country. He stressed that even in his absence projects were still ongoing in the state.
"On the 22nd December, 2019 I was climbing the staircase, suddenly the light went off and I felt down, for those who saw me the next day I was limping. I traveled abroad for medical treatment and on return to the country, my doctors asked me to rest. That was why I stayed in Abuja, Even in my absence, massive roads construction and other projects are still ongoing", Ishaku said.
While declaring 'No handshake' in Taraba as a result of the coronavirus the governor appreciated the people of the state for their prayers and also warned against unnecessary trips as part of measures to avoid coronavirus.